Europe '96: Prague (vs. Budapest)
<<< Prev
Index to Joe Mabel's travel writing
Next >>>
So then I went on to Prague. Very interesting scenery/towns en route, I'd like to go back and explore it someday. Brno looked (from the train) like a very interesting city in its own right.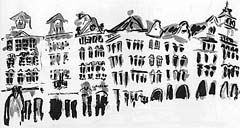 Prague is even more beautiful than I'd imagined, but also even more than imaginably overrun with foreign tourists and expatriates. (Well, if you know Florence, Italy you can imagine.)
It is hundreds of years since a war was fought through Prague, and it wasn't really bombed by either side during WWII. Since the revolution of '89 it seems that every exterior has a fresh coat of paint, so much of the old city is fresh-looking 200 year old buildings. Even in the outlying areas, 19th century buildings are common, and a lot of the early 20th century architecture is great, too. Prague is really the only place Cubist architecture actually got built (I gather Le Corbusier was very jealous over that).
All that said, I had a better time in Budapest. Part of that was just circumstancial: I had better weather in Budapest, I had a room in the middle of the city (in Prague I was in a very pleasant pension, but way the hell and gone, the first place I have stayed in Europe which was not in walking distance of anything interesting), I had a little more time (8 days vs. 5), and I had a more up-to-date guidebook (these are rapidly changing cities). But part was inherent.
Public transit in Budapest is generally a pleasure to use. In Prague, not: architecturally sterile inhuman subway stations, tram stops in the middle of the street with no shelter, poor signage, almost no maps. (To give credit where it's due, even Prague has better public transport than any but a handful of North American cities.)
As I said earlier, in Budapest I sensed that you could get anything for a price. But Prague gives the feeling that you can't get anything except by spending money. Almost no one will do you even a minor favor. For example, I tried and failed to buy a sketchbook in Prague. I got as close as a good stationery store which didn't really carry art paper. The woman behind the counter, who spoke excellent English, informed me that even though they clearly didn't cary what I was looking for, store policy would not allow her to refer me to somewhere else where I could buy it, and if I didn't want to buy the children's sketchbook they had with really bad paper she just couldn't help me. This would not happen in Budapest. Praguers obviously do not believe that one hand washes the other.
In Prague, unlike in Budapest, a lot of desireable real estate is for sale or rent. That means the old occupants have been forced out. In Prague, as far as I can tell, the bulk of restaurants and bars are targetted strictly at the tourists and expatriates, not at the locals. In Budapest, even on Castle Hill there are places which obviously have reasonable prices and plenty of Hungarian regulars (Ruszwurm's, for example).
Finally, Prague is a much harder city in which to get off the tourist turf. For starters, there's a whole other expatriate turf, so you can find yourself in a place which is definitely not a tourist place, only to discover that there are still no actual Czechs there. You also have the possibly unique phenomenon of a highly advertised second circuit of classical music, doing (for example) Don Giovanni or Mozart's greatest hits every night, all summer. (Again, to give credit where it's due, there are also fine, first rate classical performers in Prague. I got to hear the Prague Symphony Orchestra do very well with Smetana, Dvorak, & Janacek.)
While in Budapest many things -- and some people -- were for sale, I never got the sense that Budapest itself was up for grabs. Prague feels to me like the city itself is for sale, maybe not to the highest bidder but to a discerning gentleman with a taste for fine wines, classical music, and Central European culture, or at least the trappings thereof.
| | |
| --- | --- |
| Some more Prague sketches (click on them for slightly larger versions): a view in the Mala Strana ("Lesser Quarter") looking toward Hradcany ("The Castle") and some cubist furniture from a museum, which happens to be a former department store, designed by a cubist architect and, who knows, it probably once had furniture like this for sale. | |
<<< Prev
Index to Joe Mabel's travel writing
Next >>>
---
All materials copyright © 1996, 2021 Joseph L. Mabel
All rights reserved.

"Copyleft": With appropriate notification and appropriate credit, non-commercial reproduction is welcome: contact me if you have any desire to reproduce these materials in whole or in part.


Originally written: 1996


Last modified: 1 March 2021

My e-mail address is jmabel@joemabel.com. Normally, I check this at least every 48 hours, more often during the working week.