To index of "travel stories" | To index of images | To associated story | To my home page
Mala Strana, Prague, looking toward Hradcany (sketch)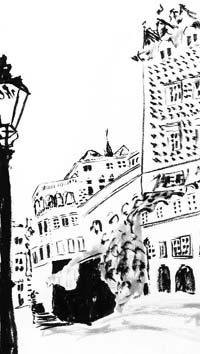 1996
One of the few outdoor sketches I managed to do in Prague, in between rainstorms. In Mala Strana (the "Lesser Quarter", across the river from the Stare Mesto) looking toward Hradcany ("The Castle").
Pentel Color Brush and some minimal touchup in Adobe Photoshop.
---
Last modified: April 3, 2002

To index of "travel stories" | To index of images | To my home page | Email jmabel@joemabel.com


---
All materials copyright © 1996, 2002 Joseph L. Mabel

All rights reserved.

"Copyleft": With appropriate notification and appropriate credit, non-commercial reproduction is welcome: contact me if you have any desire to reproduce these materials in whole or in part.