Europe '96: Caceres & Trujillo
<<< Prev
Index to Joe Mabel's travel writing
Next >>>
Cáceres is the provincial capital of one half of Extremadura. (By the way, thank you to José Antonio Mesa González for correcting my earlier misstatement that Cáceres is the capital of Extremadura. Cáceres & Badajoz are each provincial capitals. Mérida is capital of the whole of Extremadura.) There are about 100,000 people: not too big, you can walk from one end to the other in half an hour, but very lively. Much of the University of Extremadura is there, and there is a beautifully restored Ciudad Monumental of palaces from the Siglo de Oro ("Golden Century", the height of Spain's power), now housing government buildings and part of the university, as well as a few nice bars, a parador (upmarket government-run hotel) and a handful of private residences.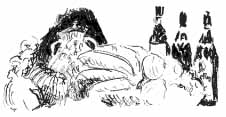 In the old city is one of the coolest bars I have ever seen, open only Thursday through Sunday evenings: Corral de las Cigueñas. Cigueñas are storks, and there most be one (or more) nested on top of every tall(-ish) building in Extremadura. The bar has a nice interior, but this being lovely weather, everyone was outside on the terraza, under the palm trees, one of which had been (surprisingly tastefully) augmented with a ring of blue neon. Reasonable (though not cheap) prices, good light food (tapas & raciones) including some wonderful queso de oveja, sheep's milk cheese. But on top of this, the best selection of music in a bar I have probably ever heard. I ended up talking to the man who programs the music. Examples: Roky Erikson, Marianne Faithful, Los Rebeldes, Orquesta Riva. Life is good.
The old city is starkly beautiful (or should I say "storkly"? No, I'd better not). Big stone block palaces, some of them actually rather ornate on the inside, but barely ornamented on the outside except for escudos (crests) and a few modest gargoyles.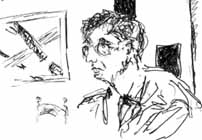 Right next to the old city is a big Plaza Mayor. Sadly, much of it is a parking lot, but it's surrounded by arcaded buildings and about 100 meters square is terraza seating for bars. Definitely the center of life in the city, but there's also one turn-of-the-century shopping street and another, also quite nice, which probably dates mostly from the '70s. The town must have about 200-300 good bars and restaurants, and a very lively nightlife, but for some bizarre reason, tourists are only here in big numbers in the beastly hot summer and right at the inevitable Spanish vacation times, like Easter week.
I stayed on the Plaza Mayor at the Hostal Goya, where I got a room facing the plaza for 4000 ptas/night, about $32US. That's an off season rate, but still a remarkable bargain for a genuinely great room.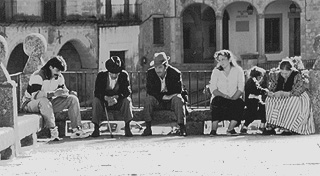 An hour away by bus is Trujillo. Pizarros's home town -- there's a big equestrian statue of the S.O.B. in the Plaza Mayor -- it rivalled Cáceres in the Siglo de Oro, but it is hardly any bigger now than it was then. Unlike Cáceres, the old part of town (the Ciudad de Arriba, or upper city) is still very much occupied, at least in its lower reaches. Hundreds of people live within the old walls. Some still raise chickens there. The castillo has a panoramic view of the heath below which takes your breath away. But to tell, the truth, beauty aside, the place gave me the small town jitters, and I only stayed one night.
<<< Prev
Index to Joe Mabel's travel writing
Next >>>
---
All materials copyright © 1996 Joseph L. Mabel
All rights reserved.

"Copyleft": With appropriate notification and appropriate credit, non-commercial reproduction is welcome: contact me if you have any desire to reproduce these materials in whole or in part.


Originally written: June 18, 1996


Last modified: 26 February 2021

My e-mail address is jmabel@joemabel.com. Normally, I check this at least every 48 hours, more often during the working week.