To index of "travel stories" | To index of images | To associated story | To my home page
Gypsy family (photo)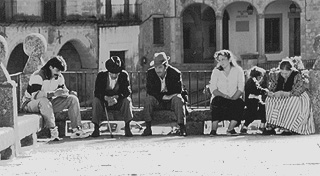 1996
A gypsy family outside the cathedral of the small Extremaduran city of Trujillo.
This picture was actually taken in color, then scanned in black and white and manipulated a bit in Adobe Photoshop.
---
Last modified: April 3, 2002

To index of "travel stories" | To index of images | To my home page | Email jmabel@joemabel.com


---
All materials copyright © 1996, 2002 Joseph L. Mabel

All rights reserved.

"Copyleft": With appropriate notification and appropriate credit, non-commercial reproduction is welcome: contact me if you have any desire to reproduce these materials in whole or in part.