Europe '96: Segovia
<<< Prev
Index to Joe Mabel's travel writing
Next >>>
Just back from two nights in Segovia, about 90 minutes distant from Madrid, up in the mountains. Very beautiful, great food, but in human terms kind of dead. Guess I should have brought my own company.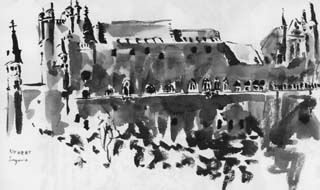 The beauty of the place would be hard to overstate. The Alcazar (rebuilt after a fire in 1862) is the model for Disneyland's Spanish Castle and outshines the copy by far. There is an amazing 12-sided Crusader Church which once had a supposed piece of the true cross -- hence its name: Vera Cruz -- which somewhere along the way got traded away in the complexity of Catholic politics. Another church, Corpus Christi, is a former synagogue. The Cathedral rises like a mountain of stone from the Plaza Mayor. And then there's an intact aquaduct from the time of Trajan. And the incredibly beautiful monastery of Santa Maria De Parral, order of San Jeronimo, with a massive Gothic church which has one of the most intricate ceilings I've ever seen, and a wooden retablo, part of which convingingly imitates marble.
Another great hostal: Hostal Hidalgo, near the center of town, a little over 3000 ptas/night.
The food was among the best I've ever eaten. If anyone is going there, I especially recommend a bar/restaurant Cuevas de San Esteban, on the Plaza San Esteban, near the Plaza Mayor.
<<< Prev
Index to Joe Mabel's travel writing
Next >>>
---
All materials copyright © 1996, 2021 Joseph L. Mabel
All rights reserved.

"Copyleft": With appropriate notification and appropriate credit, non-commercial reproduction is welcome: contact me if you have any desire to reproduce these materials in whole or in part.


Originally written: 1996


Last modified: 1 March 2021

My e-mail address is jmabel@joemabel.com. Normally, I check this at least every 48 hours, more often during the working week.