Romania: Bright Lights Big City
<<< Prev &nbsp Index to Joe Mabel's travel writing Index to Joe Mabel's writing about Romania Next >>> &nbsp

21 Jan 2002


It can be really weird what is and is not available in Bucharest. For example, Bucharest has several moderately decent art supply stores, including some with a fine supply of oils and acrylics, stretched canvas, Canson papers in a wide variety of colors, etc., but no one seems to stock a decent plain normal little sketchbook. One place did have a sketchbook about the size of a Great Dane (a little hard to get in the backpack). I finally found something half OK at a store at the Bucharest Mall.

The Bucharest Mall. Quite a concept: the conquest one of capitalist retail's last frontiers in Europe.

In the middle of an otherwise undistinguished neighborhood of mostly typical gray concrete communist apartment buildings (not even particularly big ones or particularly nice ones) sits a 4-story western-style mall, including a multiplex cinema and a food court. Depending on your points of reference, think of:
a low rent Pacific Place (Seattle)
a smaller, better Arndale (Manchester and other UK cities, and yes the Bucharest Mall does have a - smallish - Marks and Spencer)
The food court is actually pretty good: almost no one "happens to be in the neighborhood", and many people choose it as a mealtime destination. I had some very decent grilled fish with a side of mămăligă (mamaliga, polenta) and some almost Italian gelato. There was the inevitable McDonalds, but not much other junk: for example, the (inevitable) Chinese food was Hungry Dragon, which one of my guide books accurately says is "not so much fast food as food served quickly," and in general that seemed to be typical of the quality. Also, there is a supermarket downstairs and nothing to stop you from carrying food up to the food court.
Tables were remarkably jammed in. It's hard to imagine they could fit more. To get to and from most tables involved the active cooperation of several other diners, sort of like getting in and out of seats in a theater. And this being Europe, at any given time one person in four had a cigarette going, which to my mind does not make an ideal dining experience. Still, I would have to say that the food court was the highlight of the mall, probably the only thing in it that actually exceeded the standards of comparable institutions in America. I'm told the cinema is really nice, too, but it plays mostly mainstream Hollywood stuff, not usually my thing.
Speaking of mainstream Hollywood stuff, I think I've mentioned that our office shares a building with a filmmakers' organization. For several days now, for reasons unknown, a VERY LARGE standup cardboard promo piece for Zoolander has been occupying most of the foyer.
Not speaking of mainstream Hollywood stuff, I saw two plays this weekend. One was a very fine production of Michel de Ghelderode's Christopher Columbus in a basement theater called Teatrul ACT, with seating on tiered platforms around three sides of the room. The audience was mostly in their twenties, although amusingly I ran into Adrian Mihalache, one of the few people I know in Bucharest independently of RDC. As it turns out (and unsurprisingly, given his interests), he is a good friend of the (very talented) director, Vasile Nedelcu.
For those who may not be familiar with it, this is a play that demands that the production take liberties. I gather that one of de Ghelderode's own stagings of it was with puppets, as was a previous production I had seen in Seattle (Il Teatro Pescatore, a small-top tent theater). This one had a cast of 7 excellent young actors and actresses, doing some of the most physical performances I have ever seen. I could probably follow only a third of the dialog, but that was just fine: a deaf person could have had a great time with this show (although he would have missed the wonderful sound effect of a boat slapping against Atlantic waves, created by Columbus's bare feet sloshing in a small plastic tub).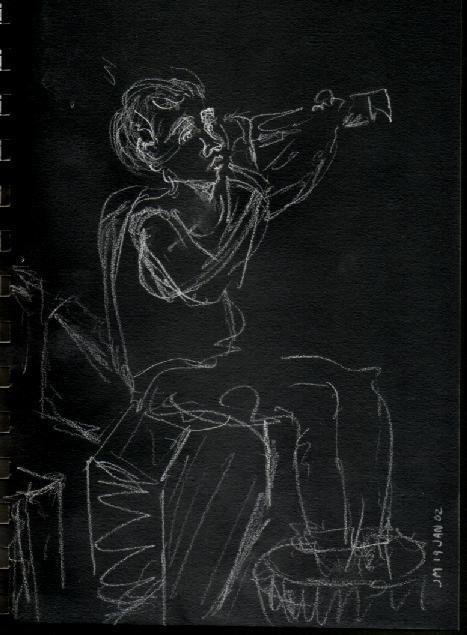 Except for the actor playing Columbus, everyone had multiple roles. At one moment three actresses would cover their entire bodies (head included) with black gowns topped with white lace collars and balance detachable egg-shaped heads on top to represent nay-saying academics; at another point, a rather tall actress would seem to become even taller, as a lascivious Queen Isabella on the shoulders of an actor concealed under her impossibly long gown; at other points, a member of the cast would become an Indian, or an angel, or a first mate, or a menacing representative of the Church, or whatever else was needed to move the plot along. Add to this simple suitcase-like wooden packing containers that could be stacked, aligned, misaligned, shaped into a representation of a prow of a boat, etc., lots of flying ping pong balls (and even a few eggs) round like the world, a steady stream of sexual innuendo, trade with the Indians (alcohol for tobacco), a cardboard telescope (frequently held up to a sailor's eyepatched eye), and far to many pieces of brilliant stage business for me to even try to list, and you get a very inspired piece of theater.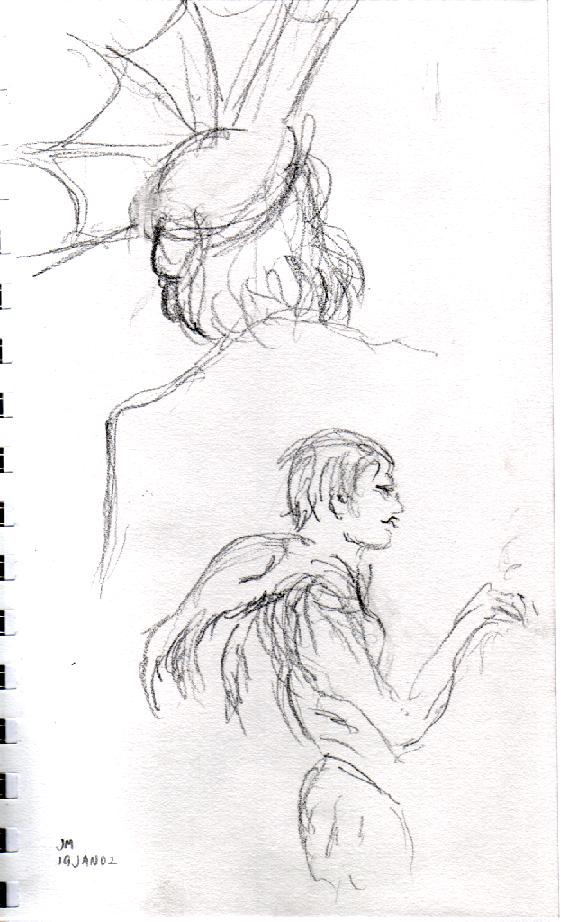 Afterwards, Adrian and I went to the nearby bar of the Writers' Museum, a good beer-cellarish place I would certainly never have found on my own. Which reminds me of a blatant omission from my recent list of alcoholic beverages: vin fiert, a hot spiced wine, very much the winter drink.

Again, an absurdly inexpensive evening for a person with a US income: the theater ticket worked out to about US$1.25, and two generous mugs of vin fiert came to about US$2.25.

Not having quite had my theater fix for the weekend, I went to see a matinee of Lozul Cel Mare (Lozul the Great), a musical based on a story by Shalom Aleichim, music by Hain Schwartzman, music by Dov Haran. The audience here was even younger: median age certainly under 20, maybe only 16, although a smattering of middle-agers like myself and even a few oldsters (one of whom I had seen earlier in the week at the symphony). (And they were a very good audience.) As you might have guessed, this was at the Jewish Theater. As you might not have guessed, this was presented in Yiddish, with sort of a none-to-inspired running headphone translation to Romanian available.

The story is simple: tailor wins the lottery, becomes a bourgeious, blows his money on foolish speculation, becomes a tailor again. Meanwhile, during his brief period of wealth his daughter runs away from an attempt to arrange a marriage to a rich idiot and elopes with one of the tailor's former apprentices, which proves to be a very suitable match once the family is broke. There's more to it than that: the daughter seems almost equally inclined to elope with either of two apprentices, the bourgeiousie condescend to the tailor, etc.

A rather good play, written in 1948, and as far as I know never performed in America, or even Israel. I can't find a single reference to it on the web. This is apparently its third Romanian revival (previously revived in '61 and '73). The production was generally very good, although marred (in my opinion) by the use of a recorded small orchestra, especially because the recording was played louder than some of the actors could really sing. I'd sure have preferred a live piano player. Still, good tunes. Pretty cool to see Romanian teenagers leaving the theater humming klezmer. Of course, klezmer is not that much of a musical stretch here: one major strain of contemporary Romanian pop music sounds like klezmer meets hip-hop.

I also should mention, since it would be very notable in America, that most of this young audience arrived and left in small groups, on foot, unaccompanied by adults.

Definitely healthy to have a situation where a major part of the audience for theater is really young. Especially when they have no problem at all with productions that would frankly have a hard time getting audiences in a lot of other places. How much of a crowd would you you have for a Yiddish musical most other places? Especially, how many places would you get what was undoubtedly a mostly Gentile crowd? How much of an audience is there for challenging theater like de Ghelderode? I guess this Christopher Columbus would have done fine in Seattle or NYC or a handful of other major cities, or even on a college campus (though you would have a hard time assembling a comparable troupe of young actors outside of a real theater center). Anyway, it's stuff like this where Bucharest shines.

Speaking of good things that would be very notable in America (and speaking of shining), I've been really impressed with how well Cişmigiu (Cismigiu) Park functions on winter evenings. This is a big park, probably the equivalent of 20-25 city blocks [I stand corrected April 2006: it's only about 15 city blocks. But it feels bigger, I swear.], but they keep it well lit through the winter with what are essentially tens of thousands of white Christmas lights, and it's patrolled by perhaps a dozen police. It ends up being one of the best lit places in Bucharest. Thousands of people are there every night; there are food stalls, one restaurant, even the occasional person hawking lottery tickets. Why can't most US cities make a park function this well at night, especially in cold weather?

Further on the subject of light, they have just started majorly lighting the parking lot/plaza at the center of the city , where the Atheneu and the Hilton and the former palace (now art museum) and so on are located. I suppose it is safer, and this is a place I've been hassled a few times, but I will miss having the glow of lighted building facades dominate the scene. Now those are rather lost in the greater luminescence of street lights.

Bright lights, big city. Right.


<<< Prev &nbsp Index to Joe Mabel's travel writing Index to Joe Mabel's writing about Romania Next >>> &nbsp

---
All materials copyright © 2001, 2002, 2003, 2006 Joseph L. Mabel
All rights reserved.

"Copyleft": With appropriate notification and appropriate credit, non-commercial reproduction is welcome: contact me if you have any desire to reproduce these materials in whole or in part.


Originally written: January 21, 2002


Last modified: 24 February 2021

My e-mail address is jmabel@joemabel.com. Normally, I check this at least every 48 hours, more often during the working week.