To index of "travel stories" | To my home page
Florence
After the Cinque Terre, I headed on to a week in Bologna, with 3 day-trips to Florence to see the Uffizi Gallery and the Duomo. The Uffizi is certainly one of the greatest museums in the world, probably the greatest for the Italian Renaissance, and what period of art really outranks the Italian Renaissance? I hit it 3 separate times for a total of about 16 hours, and I could have stayed longer.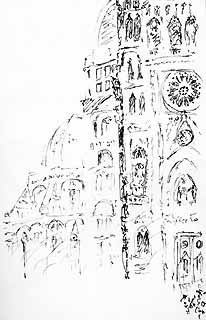 Highlights for me: Uccello's "Battle of San Romano" and Hugo van der Goes

"Portinari Triptych." I was already a big fan of Uccello (pretty much the inventor of radical foreshortening in the foreground, by the way) from his "St. George and the Dragon" which hangs in the National Gallery in London. It's a really weird picture, with a woman in medieval dress holding the dragon on a leash (now who was supposed to be whose prisoner?) while St. George attacks it with a lance. His mural-sized "Battle of San Romano" is equally wonderful, generally less weird, although he put a lot of fallen horses and corpses in armor in the foreground just to have an excuse to do really radical perspectives.
As for van der Goes, he was a Dutchman who apparently spent 2 years in Italy and influenced a lot of people with his very realistic background landscapes (think of all those late Italian Renaissance psintings and you can see the influence: the landscape behind the portrait).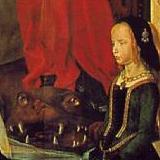 The triptych is a manger scene, but, unusually, he chooses to portray the arrival of the shepherds, not the magi, and they are 3 very distinctly painted rustics, each very different in both physical features and in how they react to the baby Jesus: one simply awed, one wanting to take that baby in his arms, the other a mixture of the two. And in the right panel there is an incredibly bizarre creature between the saint's feet and the patron's daughter's hands, the nature of which I cannot begin to guess at.
---
First posted: August 1996
Last modified: April 5, 2002
To index of "travel stories" / Back to my home page.
jmabel@joemabel.com
---
All materials copyright © 1996, 2002 Joseph L. Mabel
All rights reserved.
"copyleft":With appropriate notification and appropriate credit, non-commercial reproduction is welcome: contact me if you have any desire to reproduce these materials in whole or in part.