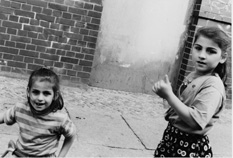 1996
In Berlin's Kreuzberg district, ethnic Turks almost certainly outnumber ethnic Germans.
This photo is almost a hipshot: I'd worked out the aperture and focus for the distance to these kids, but the shot itself was not otherwise "set up." A happy accident, I'd say, because it looks a lot better this way than if I'd taken the time to get a level horizon line, and certainly a lot more candid and spontaneous.
Shot with Ilford XP-2, a film I like a lot because it has wide exposure latitude, and is about the only black-and-white film which develops with the C41 process used in all those "1 hour photo" places, but it produces damn respectable B&W negatives.
Index to Joe Mabel's travel writing
---
All materials copyright © 1996, 2021 Joseph L. Mabel
All rights reserved.

"Copyleft": With appropriate notification and appropriate credit, non-commercial reproduction is welcome: contact me if you have any desire to reproduce these materials in whole or in part.


Originally written: 1996


Last modified: 2 March 2021

My e-mail address is jmabel@joemabel.com. Normally, I check this at least every 48 hours, more often during the working week.