To index of "travel stories" | To index of images | To associated story | To my home page
Paris street scene (sketch)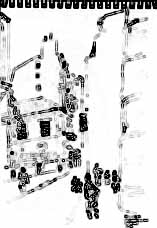 1996
Kids playing street soccer in the 3eme arrondisment.
Nice technical trick on this one: it's actually built out of a sketch executed in plain old ballpoint (or Rolling Writer or some such), then scanned into Adobe Photoshop, sharpened, and run through edge detection. Pretty cool effect, no?
If you want to try this, don't skip the sharpening step or it gets to be a bit of a mess.
---
Last modified: April 3, 2002

To index of "travel stories" | To index of images | To my home page | Email jmabel@joemabel.com


---
All materials copyright © 1996, 2002 Joseph L. Mabel

All rights reserved.

"Copyleft": With appropriate notification and appropriate credit, non-commercial reproduction is welcome: contact me if you have any desire to reproduce these materials in whole or in part.