To index of "travel stories" | To index of images | To associated story | To my home page
Roman Lantern with image of Horned God and Flail (sketch)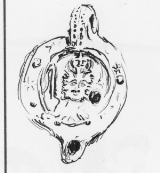 Roman clay lanterns often contain interesting, unusual images, probably because this was profoundly private art. The museum of Roman antiquities in Merida has about 20 lanterns on display. To me, the most striking image was this horned figure with a flail.
Medium: just a quick sketch with a cheap ball pen.
---
Last modified: April 3, 2002

To index of "travel stories" | To index of images | To my home page | Email jmabel@joemabel.com


---
All materials copyright © 1996, 2002 Joseph L. Mabel

All rights reserved.

"Copyleft": With appropriate notification and appropriate credit, non-commercial reproduction is welcome: contact me if you have any desire to reproduce these materials in whole or in part.