To index of "travel stories" | To index of images | To associated story | To my home page
Bicycles in Bo (photo)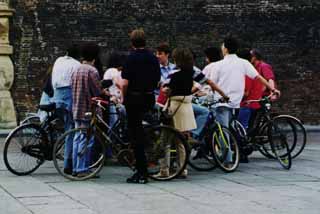 1996
So many bicycles in Bologna!
In the early evening, bunches of young people come and go from the Piazza Maggiore. Often as not, they don't even dismount as they hang out and chat.
---
Last modified: April 3, 2002

To index of "travel stories" | To index of images | To my home page | Email jmabel@joemabel.com


---
All materials copyright © 1996, 2002 Joseph L. Mabel

All rights reserved.

"Copyleft": With appropriate notification and appropriate credit, non-commercial reproduction is welcome: contact me if you have any desire to reproduce these materials in whole or in part.