To index of "travel stories" | To index of images | To associated story | To my home page
Safe Harbor (photo)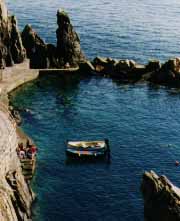 1996

A boat at harbor, somewhere in the Cinque Terre. I suspect it's Manarola because there's a big rocky hill just south of the town, but I didn't write it down. If anyone knows the area well enough to say for sure, I'd love to know. Send me mail.
---
Last modified: April 3, 2002

To index of "travel stories" | To index of images | To my home page | Email jmabel@joemabel.com


---
All materials copyright © 1996, 2002 Joseph L. Mabel

All rights reserved.

"Copyleft": With appropriate notification and appropriate credit, non-commercial reproduction is welcome: contact me if you have any desire to reproduce these materials in whole or in part.